The Fugitive
Andrew Davis
1993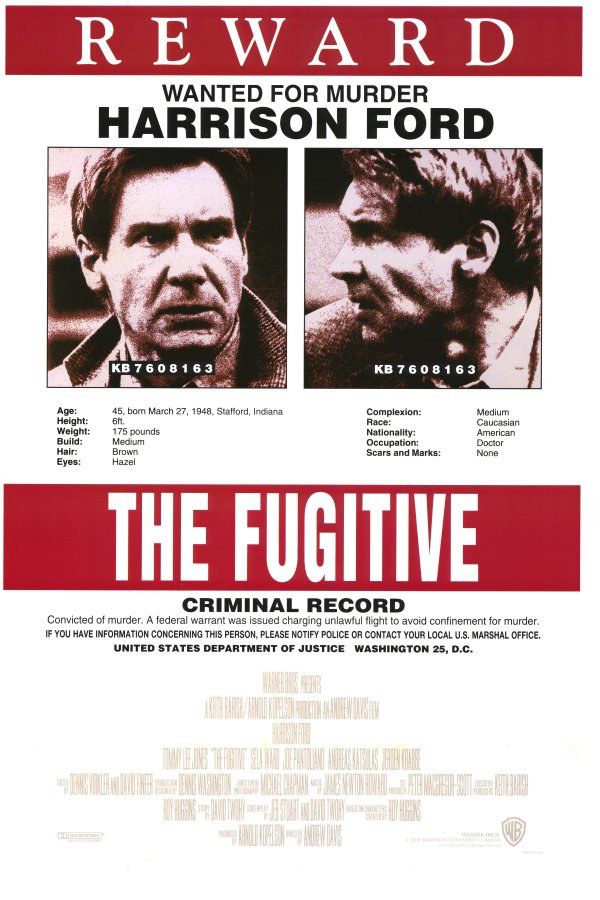 Everyone's seen this, so some stray thoughts:
1) This still plays pretty well, but you can tell it's 20 years old. There are just some style differences that you'd see if this movie were made today. So much swelling orchestral music (throughout) that feels dated. Some of the action stuff would be way slicker. Don't know if that's a good or a bad thing.
2) The couple of pieces that everyone remembers– Ford jumping off the train, Ford jumping off the dam– really all happen in the first half hour or so. The real meat of the movie is also why it's so good: it turns into mystery while being a chase movie. The best stuff is Ford investigating the one-armed man, and his near-misses (or "near-hits" if you're George Carlin) with Tommy Lee Jones along the way. It's pretty nicely put together.
3) It's really weird watching Tommy Lee Jones here. He looks like a CGI version of his current (old) self made to look 20 years younger. I guess he was just born to be old. I liked him a lot here, he's definitely fun, but you're not going to convince me he should have won the Oscar over Ralph Fiennes (and maybe Pete Postlethwaite, but it's been a long time since I've seen In the Name of the Father).
4) I don't really understand why Jeroen Krabbe doesn't just help the police catch Kimble. It's not like Kimble was going to find out, and it's pretty reasonable for Krabbe just to say, "man, the guy is my friend, but this is the law we're talking about," and just slip the cops some info, let them catch Kimble, and be on his way, never to be discovered as the big bad guy. Instead, he's all, "Kimble is innocent and smarter than everyone, you'll never catch him, ha ha ha," and then, sure enough, all that is true and Kimble kicks his ass because he's actually the bad guy. Why? We sort of decided that he must have just been so arrogant that he thought he could behave that way and never get found out, but he sure could have saved himself a lot of trouble. I mean, that's really, really stupid.
5) I want to see the movie where the middle-aged doctors have a climactic fight where they look like middle-aged doctors. Like, basically they're really bad at fighting, and one guy lands a good punch and it really hurts (both of them, cause the puncher probably breaks his hand) and it just looks kind of terrible and doesn't last very long. Did not like the action-movie punch out at the end here.
6) Really, the movie's probably about 10 – 15 minutes too long.
Update: Oh, also, I like the visual "quotes" the movie takes from other movies. I saw a couple from Indiana Jones movies, and another from The Conversation. I'm sure there are some that I missed. Kinda fun.