Holy Motors
Leos Carax
2012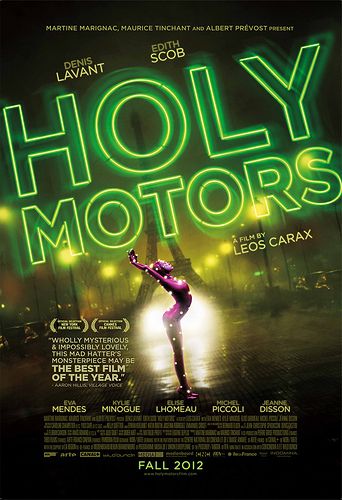 I'm perfectly fine with admitting that I don't really know what was going on here. I'm fine with it for two reasons: one, I don't mind it when I don't get something, or at least I'm ok with telling people when I don't get something. I guess sometimes I do mind it, but only because I want to understand things, not because I feel like I'm a moron for not getting something. I know I'm a moron.
The other reason is that pretty much all the critics who reviewed this basically said, "You can't really stop watching it but I don't really know what happened."
I think the first part of that statement is actually wrong: I think a lot of people could stop watching this. But I also think it's reasonable to say it's not like anything else any of us has seen, and that really appeals to people who see a lot of movies and are generally thirsting for something different. And boy is this different. You could probably say it's about something like the experience of actors and filmmakers and changing faces and roles and stuff like that. I have no idea if that reflects reality or not. I think you could say a lot of things about what this movie is about. I don't know if you'd be right about any of it.
There are some sections that are completely exhilarating. Without a doubt. There are a couple others I probably could have done without. All that said, I absolutely do not regret watching this movie.
I just have no idea what was happening.
Note: If you see some stupid ad or video at the end of this or any post on this site, we have nothing to do with it. WordPress has apparently started adding those on accounts that aren't paying for their "no ad" upgrade.