Whiplash
Damien Chazelle
2014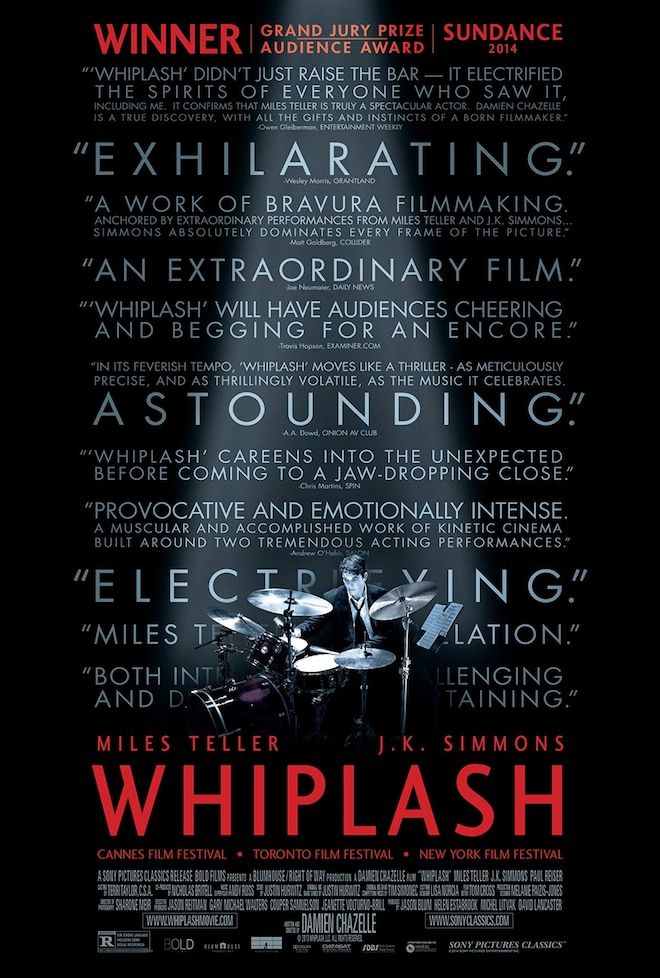 I think this New Yorker article is right, but I also don't really feel like judging this movie based on those things. I don't care that much if it gets the "jazz" right. On some level, I feel like that's complaining that a space movie doesn't get the science right.
On some level. But I really hate that there's no joy. There's no love in or for the music. It's true that this isn't a movie about jazz, or even really a movie about music. But it's really hard for me to forgive that there's no joy at all. Even people who rehearse everything obsessively experience the joy of the music at some point. Trust me, they don't do it if they don't feel that.
What all this means is that this movie is intense, but I can't find it exhilarating. It doesn't transcend. It's fine if this is a movie about two people who are completely obsessed, although I find it less compelling that (if that's the case) there are two of them—real obsession doesn't need a kick in the butt to get going. And if that's what it is, I actually find the two characters less interesting. There's not much else going on with either of them. There's not that much complexity.
I think there are a lot of ways they could have fixed these problems, but we're taught not to bring something to a movie that isn't already there, so I'm not going to say more about what they should or could have done.
But to quote/paraphrase that New Yorker article at the top: Buddy fucking Rich? Really?
Note: If you see some stupid ad or video at the end of this or any post on this site, we have nothing to do with it. WordPress has apparently started adding those on accounts that aren't paying for their "no ad" upgrade.