A Dangerous Method
David Cronenberg
2011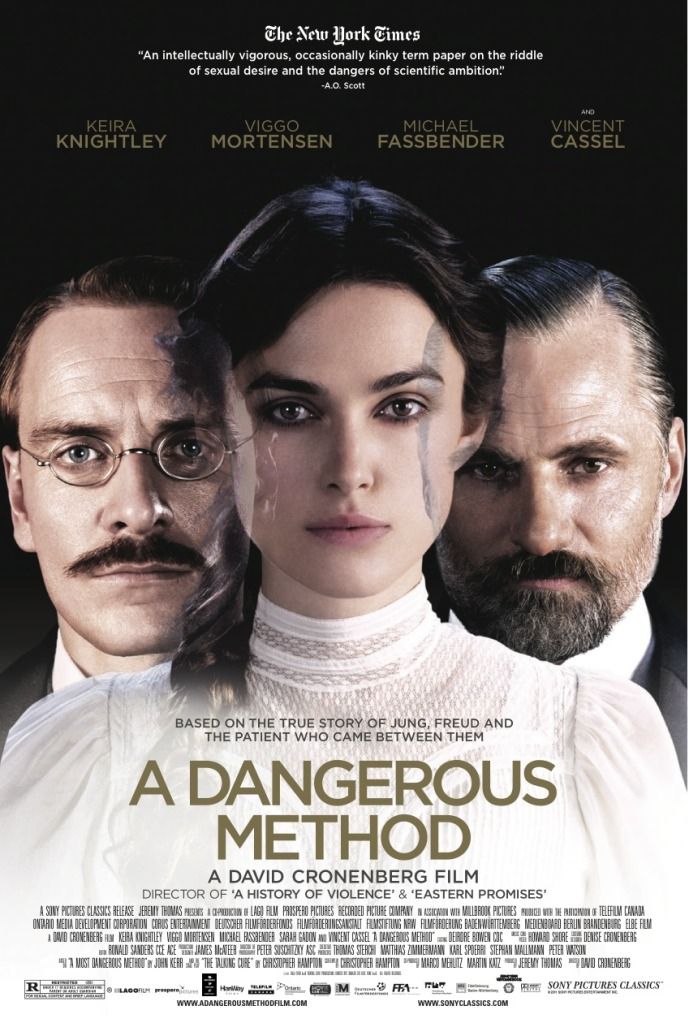 This is a grown-up movie about grown-up things for grown-ups. It's talky talky talky, which makes sense, since it's about the birth of talk therapy. It's also a lot more than that.
It's pretty exciting to see what apparently is a pretty painstakingly accurate depiction of the early days of psychotherapy (accurate if David Cronenberg is to be believed, and who knows about that). Freud was wrong about a ton of things, but he did get the ball rolling, at least, and I find it fascinating to see Freud and Jung tossing ideas around and being really quite concerned about the reaction of the rest of the world to what they were doing, which was revolutionary.
And this is Cronenberg, so of course there are a whole lot of deeply uncomfortable and conflicted feelings about sex. Keira Knightley's Sabina Spielrein is extraordinary and intense and sometimes terrifying, and Cronenberg not only doesn't tell you how to feel about her, he's got ways to make you feel a lot of different ways about her. It's clear that her sexuality has been deeply affected by her earlier abuse– this makes you feel uncomfortable. But it's also clear that she's doing things that she very much wants to do, and expressing her sexuality in ways that seem very much not to have been acceptable, which also makes her kind of a liberator. That she goes on to become a psychotherapist herself seems pretty relevant, too.
And speaking of extraordinary actors– I'm not sure we think of Viggo Mortensen that way, but look at these three movies that he's done with Cronenberg: A History of Violence, Eastern Promises, A Dangerous Method. Could there be three more different parts?* And he absolutely nails all three.
I'm really entertained that, of all the movies Cronenberg has done, he says that this one is far and away the heaviest on digital effects. Pretty much every scene is people sitting around and talking. But it turns out that a lot of the landmarks are computer-generated– the houses in the background, Lake Geneva through the window, the bridge over the river. It's pretty amazing.
There's a lot going on here, there are a lot of layers. This post could be very, very long, even though I'll stop it now. They do make movies for adults, and we should appreciate them.
*Probably, but you see what I mean.