The Great Gatsby
Baz Luhrmann
2013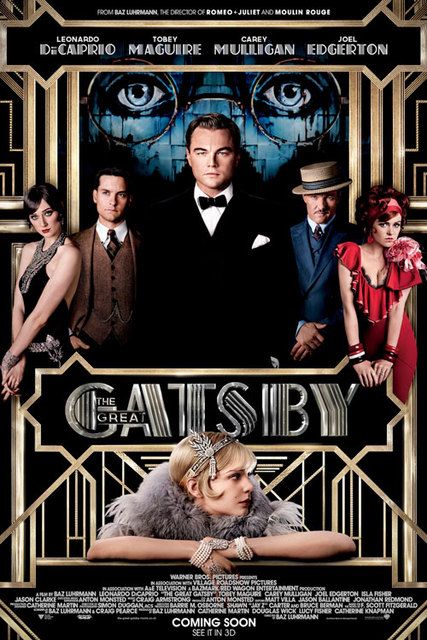 I'm not sure it makes a whole ton of sense that I like Baz Luhrmann's movies as much as I do. I tend to prefer movies that are quiet and slow, contemplative, that allow themselves (and me) to breathe. I think we know Luhrmann doesn't do any of those things.
But I think he does two things really well, and they must be what attracts me– first, I'm rarely bored. What he's doing really doesn't always work, but it's interesting to me to watch him try, and his strange kind of mania holds my attention. I often feel like his world is a world that's about a half step to the side of the one we actually live in. It's clearly not our reality, but it's not different enough to be unfamiliar, either.
The other thing he does really well– and I really feel like this is what does it for me– is sincerity. He REALLY MEANS IT. And when so many parts of pop culture are winking at you, or are full of subtext, or are trying so darn hard to be ironic, it's such a welcome shift to see someone being so sincere in what he's doing.
Now, that sincerity can sometimes cause problems. His dialogue is occasionally clunky, or even a little silly. We sometimes end up with devices like dreadful voiceovers. And in pretty much all of his movies (I haven't seen Australia), it takes about a half hour to settle in to his world, because it's just not something we're used to. But I'm fine with all of that– I'm willing to take that deal if it means I get Luhrmann's enthusiasm and mania and, yeah, sincerity along with it.
I know it's not for everybody. I get why people think this movie is a mess, or just doesn't work for them. It does for me, though. And I also think that Luhrmann's quirks actually make some of the kookier parts of the story (the "all-seeing eyes," for one) work a lot better than they might if they were put on by a more grounded director. Luhrmann's sense of reality (which is different from anyone else's) make those pieces fit.
I don't think this is quite to the level of something like Moulin Rouge, and I think part of the problem, for me, is that I don't care nearly as much about the characters. I don't feel like the story is terribly interesting. I do think the examination of social economic class is interesting. Just not really the characters who are put into it.
Leo is fantastic. He covers a lot of ground, from being completely confident to being terribly nervous, plus broody, aggravating, needy, generous, obsessive, and kind of insane. I loved him trying out different ways of buttoning his jacket while waiting to meet Daisy again for the first time in years. I loved how he said "Old Sport" in a way that didn't feel very organic, which makes sense since he took it on as an affectation instead of it being something he naturally acquired.
One thing that bothered me a fair bit is how the movie treats black people. Meaning, it's pretty clear it doesn't know how to treat them. Luhrmann just sprinkles some black people here and there, here are some musicians, there are some driving alongside our heroes in a car, for no apparent reason except so that we can see them there. Our villain makes a couple of racist comments, but otherwise "race" is never really treated. Would anyone have blinked if one of the main characters had been black? I'm willing to bet not. As much as I loved Leo, what if we had had a black Gatsby? It would have worked, and might have made a lot of sense with the rest of the movie. I just don't understand why Luhrmann had to make it feel so much like, "oh, let's put some black people here and here, that'll do," like it was just part of the art direction.
Speaking of art direction, sort of. Amy noticed that, while most of the women in the movie are wearing bright, bold colors, there are a couple of scenes where Daisy and the golfer (Jordan?) are wearing much softer, cream-colored clothes. I can't imagine that Baz Luhrmann, of all people, doesn't have very specific reasons for why people are wearing the clothes they're wearing in particular scenes. I'm certainly not the person to take the time to analyze all the costume changes and what they might mean, but I'd be interested to see the work of someone who did. I'm curious to know who's wearing what and when they're wearing it, and what that might mean.
I thought the music worked. Of course, I thought the music worked for Moulin Rouge, too, and if you don't agree with me on that then you really don't agree with me on that.
NOTE: I hardly remember the book at all, and I don't really care how this movie compares to it. I felt liberated not to have to spend my time thinking about the book while watching the movie, like apparently everyone else in the world felt they had to do.
Additional NOTE: If you see some stupid ad or video at the end of this or any post on this site, we have nothing to do with it. WordPress has apparently started adding those on accounts that aren't paying for their "no ad" upgrade.  We are getting no money from them, and it might be time to find a new home.